Ensure Compliance Seamlessly
An integrated all-in-one platform offering Anti Money Laundering and Counter Terrorism Financing services. NameScan specialises in PEP and Sanction screening, an important part of onboarding customers for compliance.
RELIABLE DATA SOURCES
We provide access to reputable data sources to meet the varying requirements of our users.
DATABASE UPDATES
We update the information for all of our data sources daily to provide you with relevant up-to-date data.
BATCH SCREENING
Save time scanning and improve efficiency by uploading bulk files of names to be scanned.
EASY TO USE
A central Dashboard lets you perform scans, look over your scanning history and view your credit pack orders, all in one place.
DUE DILIGENCE
Perform due diligence by assigning risk, determining true matches and recording decisions in the NameScan dashboard.
MINIMISE FALSE MATCHES
Reduce the number of false positive matches by filtering searches using Date of Birth, Gender and Country.
Our Data

Sapphire
Sapphire Checks utilises Acuris Risk Intelligence's Database (C6 Intelligence Database) of PEP and Sanctions which is updated daily. This database contains over 1.4 Million PEP profiles, 1.2 Million Sanction profiles and 400,000 adverse media links.
Check Out Sapphire Pricing >

Emerald
Emerald Checks utilise NameScan's Proprietary Database, consisting of consolidated global PEP lists and Sanction profiles that have been collected from the government and other official sources of the information which is publicly available on the internet. These lists are updated on a daily basis, and we are continuously working hard to find and add new profiles each day.
Check Out Emerald Pricing >
What are PEPs and Sanctions?

Politically Exposed Person (PEP)
A "Politically Exposed Person" or "PEP" is an individual that holds a prominent public position or function. Due to their role, they may be more susceptible to bribery, corruption or other money laundering offences.
If an individual is identified as a PEP, this does not mean that they are involved in criminal activity, but it means that precautions may need to be taken as they are of higher risk to a business.
Try out our Free PEP Check Service >

Sanctions
Sanctions are restrictions imposed on individuals, entities or countries in an effort to stop their activities and apply pressure on them to change their unlawful pursuits.
Sanctions checks are detailed searches against government and international databases of Sanctions Lists of individuals, entities, countries or organisations who are legally restricted from certain activities or industries.
Try out our Free Sanction Check Service >
Why Choose NameScan

Meet your AML/CTF compliance requirements
Many businesses are required by law to comply with AML/CTF regulations.Using NameScan's solution you are able to screen new and existing customers against global PEP, Sanctions and Adverse media databases to determine their risk to your business and avoid fines for not complying.

Automate your screening
Use our API to integrate with your existing systems to automate the screening process and increase operational efficiency by streamlining your onboarding process.

Manage risk
Manage potential risk to your business by identifying Politically Exposed Persons (PEPs), Relatives and Close Associates (RCAs) and Special Interest Persons (SIPs) when you onboard new customers.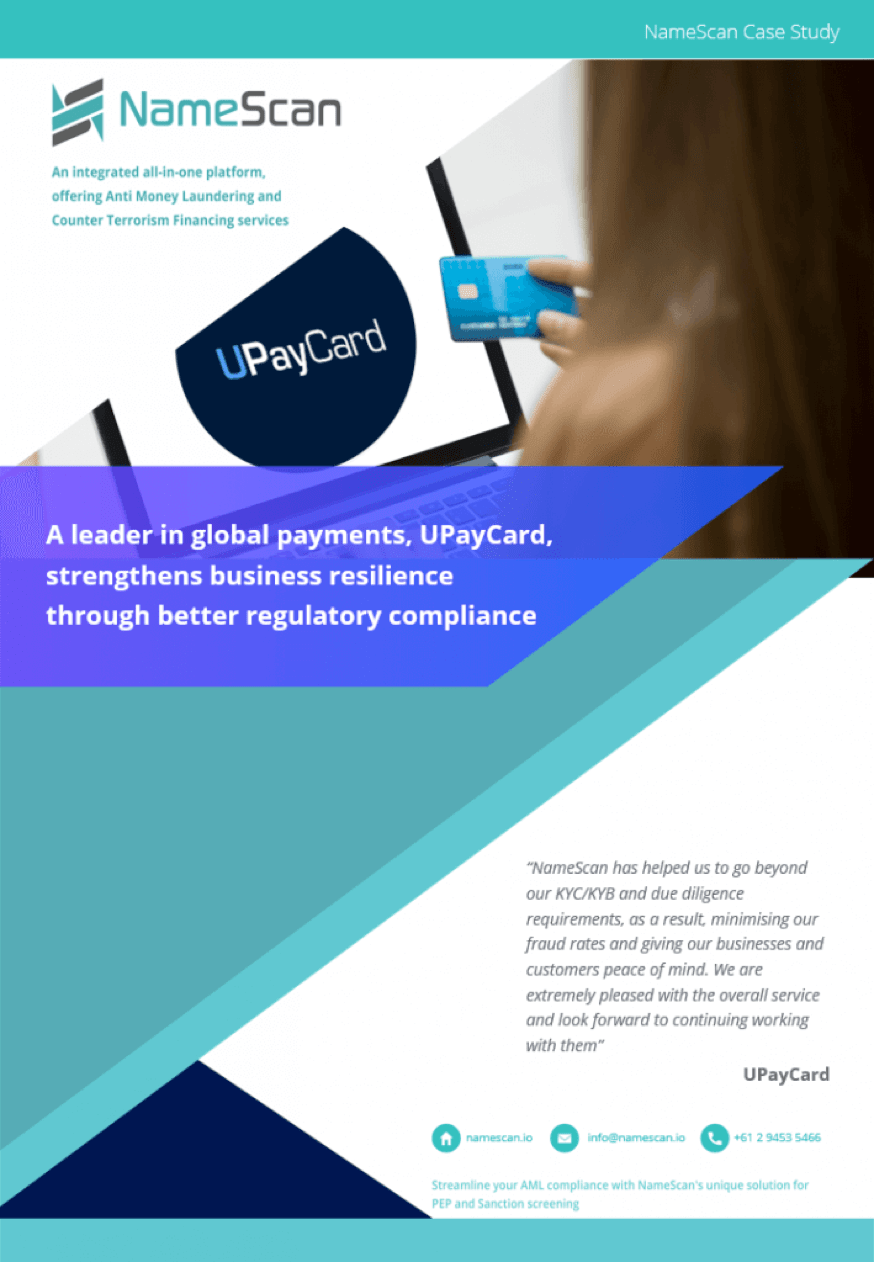 Case Study: UPaycard

A leader in global payments, UPayCard, strengthens business resilience through better regulatory compliance? Learn how NameScan's AML solutions provide a comprehensive framework to manage risk, ranging from fraud and financial crime to corruption and sanctions, for business continuity and robust growth.
Good, easy to use, gets it done
There are pros and cons to automated, comprehensive, fully-integrated systems. But for our workflow, we like that no integrations are required and we can use it as a standalone platform for running AML/PEP checks.
Top Level AML Solutions tailored to specific needs
Provides excellent value for money, is easy to use, accessible, and can be tailored for specific needs.
Detailed PEP/SIP Scanning with easy integration
Integration was easy with well-documented API. Both 'in house' and 'commercial' databases were detailed and provided valuable insights. The team are always accessible to provide support.
Making Life Much Easier
Been using this system for while now and really love the way that we get detailed response on every search that we conduct in matter of few seconds.
Great Product
User-friendly and detailed report. Seems to be the best product on the market Industry.
Using the API for a year without any major issues
Namescan API is well documented and easy to implement. We have been making calls to the API for almost a year now and there was only one instance when the call failed.
Corporate clients due-diligence
I highly recommend NameScan as it gives a detailed check on the required individuals and entities.
NameScan helps us understand our risk
NameScan is preventing us from writing a risk for an individual or entity that my have serious liability issues. I have no issues with the software itself.
Joe W.
Company Secretarial Services
Perfect for our needs
Quick and easy to run checks against a wide range of sanctions and PEP lists.
Best option out there for what we need
The simplicity and quality of the reports! Our clients have commented on how good it is to have all the scanned lists in one place.
Value for money
Very positive experience particularly in obtaining valuable and timely information on subject individuals.
Pretty good platform
Easy to use and get up and running on quickly.
Pleasantly Surprised with the service
I was pleasantly surprised with the service, the results received on my test scan were very insightful and I can see where this can be a very useful part of any firm's AML program.
Happy about our experience
NameScan is extremely easy to use and highly intuitive.
Makes our life easier to check clients and suppliers
As an international Trading and distribution company we rely on good data about our potential clients and suppliers. When looking for an AML/CTF vendor we found NameScan, I personally like it because it makes our life easier to check clients or suppliers in our industry which is full of fraudsters. NameScan gives me the security I need when transacting. Great idea, well done, best web development for a long time.
Simple and easy to use interface
Simple and easy to use interface. What more can you ask for to help satisfy Client Due Diligence requirements.
Your services exceeded my expectations
My first impression of your services exceeded my expectations because it provides clear and exact information which nowadays is difficult to find namely in considered credible sources. As part of constant improvement in achieving the credibility of the global financial system in general, your company is already one step ahead in providing the high valuable credible information and gaining trust from serious free from global elite influence person like me. It´s a perfect example of how independent non-governamental companies can do excellent work and achieve excellence based on high standards of integrity and bold core values, wisdom and vision for a brighter future.
Easy to use service
Easy to use and to sign up, contains user friendly outputs.
Great Functionality
I like how the search is narrowed. It is sensitive to include full names and also first and last name (unlike other providers I tested too). Well done.
Great user experience
Great experience! It is a user-friendly interface. The dedicated team responds quickly and efficiently to any question we may have.
Excellent Service body
Excellent service who considers startups low scan volume needs. User friendly dashboard.
Quality and Comprehensive service
NameScan provides our business with a quality and comprehensive service.
Intuitive AML screening software
Great easy to navigate and AML screening software. No fluff, no frills, straight to the point.
Excellent choice for small fintech start-ups
Namescan is an excellent choice for small fintech start-ups, where paying the large up-front signup fee of other AML solution providers can be less interesting.
Easy to use and comprehensive
Easy to use and comprehensive. I recommend.
User Friendly Interface
NameScan has a very user friendly interface.
Highly recommend it
Its an effective tool, user-friendly and provides a comprehensive reports. Highly recommend it.
Easy to use and convenient
NameScan's service is easy to use and convenient.
Simple and Intuitive
Simple and intuitive to use with actionable insights and reassuring.